Concept Album: Leggenda di Natale. Guest: Lou Teatre Coumboscuro, Archi dell'Amadeus Orchestra, Società Corale Città di Cuneo.
Li Troubaires de Coumboscuro were an Italian Provençal band with a broad, modern musical style that combined touches of rock progressive with folk including traditional instrumentation, but rooted in a rock timbre and rhythms.
The group released four studio albums, most on minor labels except their final release 'A Toun Soulei' that featured guest appearances by Alan Stivel, Gabriel Yacoub and ex-PFM guitarist Tazenda Franco Mussica. Amazing and obscure. Highly recommended!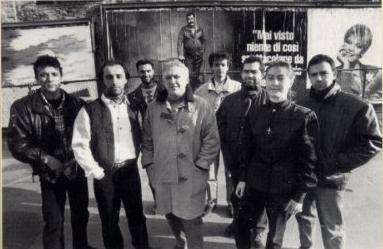 Tracklist:
A1. Countino D`esper
A2. Li Rochos Di Baus
B1. Nuech Al Jas
B2. Chamino, Vincen!
B3. Iratz E Guazens
B4. Massas E Brans
B5. Aquesto Nuech

Musicians:

Salvino Cannone (Cello)
Angelo Vinai (Clarinet)
Valeriano Rovera (Drums)
Roberto Chiriaco (Electric Bass)
Dario Bertano (Guitar)
Davi Arneodo (Flute, Piano, Composer)

Marco Ficarra (Keyboards, Violin, Electric Guitar)
Mauro Arneodo (Keyboards, Voice, Accordion)
Francesco Segreti (Rhythm Guitar)


Marco Lovera (Trombone)
Mauro Pellissero (Viola)
Gabriele Marchisio, Gianluca Allocco, Paulo Coscia (Violin)
Clareto Arneodo (Voice)
Elio Ricca, Modesto Cometto, Andrea Bissi (Baritone Vocals)
Annamaria Tonet, Enrica Parra,Rosanna Parola Vertamy (Contralto Vocals)
Elisabetta Barbero, Marvy Razetti, Rosanna Giraudo (Soprano Vocals)
Andrea Manfredi, Giuseppe Cappotto, Ivo Massimino, Paolo Ferraris (Tenor Vocals)

Note:
Leggenda di Natale (concept album)
Featuring:
Lou Teatre Coumboscuro, Archi dell'Amadeus Orchestra, Società Corale Città di Cuneo