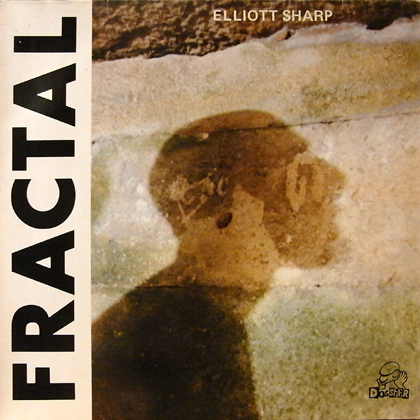 Tracklist:
A1.
Singularity (4:51)
A2.
Squig
4:38)
A3.
Diffractal
4:44)
A4.
Turbulence (5:06)
A5.
Dusts (3:22)
B1.
Lacunar (4:00)
B2.
Not-Yet-Time (15:47)
Musicians:
Drums – Robert Previte, Charles K. Noyes (tracks: A2, A3)
Guitar, Voice, Performer, Composed By, Producer – Elliott Sharp
Performer [Pantar, Slab] – Katie O'Looney
Performer [Slab] – Jim Mussen
Saw – Charles K. Noyes
Trombone – Ken Heer
Trombone, Bass Trombone – James Staley
Fractal contains some of Elliott Sharp's music at its best, which is to say, brutal. "Singularity," which opens the album, virtually sums up the Sharp aesthetic: a fusillade of dense, almost barbaric percussion overlaid with the leader's splintered guitar sounding as though it's ricocheting off the interior walls of a dark, dangerous underground lair. The bottom-heavy ensemble -- including two drummers, two trombonists, and two musicians wielding instruments of Sharp's own design (the pantar and the slab) -- is well attuned to this primeval course, insistently avoiding any hint of virtuosity or glibness. And the remainder of the record stays on that same bitter course, relentlessly pounding out rough-hewn rhythms, gnarled enough that Sharp's solo lines don't so much ride over them as encrust them. Crucially, he refuses to take a breather, driving the band through the closing 15-minute "Not-Yet-Time" (a dance score!), resolutely harsh and unbowed. Unlike many subsequent albums where Sharp nodded in this musical direction or that (punk, Captain Beefheart, dub, etc.) or over-accentuated his mathematical tendencies, he's in his own unique world here and Fractal, with the possible exception of the magnificent Larynx, stands as his most powerful, singular statement. Highly recommended.
(Brian Olewnick)