PANTHEON
comes from the Netherlands Canterbury scene of the early 70s. They began their career as a high school band in 1971, beginning with five members, and they won first prize at a national talent contest in The Hague at the annual Rekreade Festival. The win culminated in a recording session with record company Phonogram.
PANTHEON became a quartet, youthful as none of the members were over 21, and recorded their first single, "I want to know / Master Basion". The single B side was initially censored by Phonogram from Masturbation to Master Basion. The band members consisted of Ruud Woutersen (organ, spinet, piano, ARP synthesizer, vocals), Albert Veldkamp (electric guitar, bass guitar), Hans Boer (flute, saxophone, vocals), and Rob Verhoeven (drums, percussion).
The recording led to a number of live performances, such as Pop temple Paradiso and a number of other large concert halls drawing in fans of the progressive scene. The band even opened for legends such as FOCUS and SOLUTION.
A second single followed, "Daybreak / Anaïs", and received airplay on radio and television. Phonogram producer Tony Vos, resolved to record an album in 1972 with the band. "Orion" became the sole album for the band before they disbanded, released on the infamous Vertigo label. "Orion" received some critical success, and through Paul Acket's booking agency, the band were playing concerts abroad, as a supporting act for MUNGO JERRY during their Switzerland tour. PANTHEON were also the opening act for THE STEVE MILLER BAND in the Doelen, Rotterdam, another career highlight.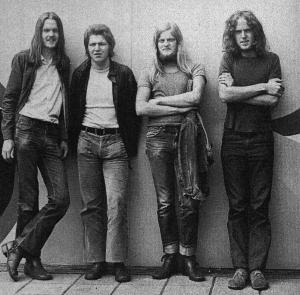 Lack of financial and commercial insight, along with a cocky attitude towards the record company and booking agencies, led to the band breaking up. There was a failed attempt to reform with a new lineup including ex-FOCUS drummer Pierre van der Linden. They played at various revival concerts with the original line up up to 1992 before calling it a day.
These days Ruud Wouterson owns a busy recording studio and writes ballet music/film scores, Albert Veldkamp is a popular guitar teacher, Rob Verhoeven owns an advertising agency, and Hans Boer provides management courses. Progarchive