French group created in 1981 and disbanded in 1990. Reformed in 2013.
Anaïd was created in the north of France by Jean-Max Delva, Emmanuelle Lionet and Christophe Delvallé, playing in small local bars and clubs. In 1983, when Delvallé left and guitarist Patrice Meyer and keyboardist Patrick Morgenthaler join, the band began playing bigger venues and festival, sometimes with prestigious guests like Didier Malherbe (ex Gong) and Frank Cardon (ex-Art Zoyd).
Their first recording in 1986 adds new members Sophia Domancich and Hugh Hopper, but in concert, they were trimmed down to a duo (Delva and Lionet), a trio (with Hopper) or a quartet (with Hopper & Pape Dieye). In 1988 Pierre-Marie Bonafos, Christian Hossaine and Jean-Marc Houssepian join the group, and record the album "Belladona".
In 1989, a new line-up is constituted, with core members Delva and Lionet with Rick Biddulph, J-L.Ditsch and P-M.Bonafos. They play a lot of concerts throughout 1989 and 1990 before disbanding.
In 2013 Emmanuelle Lionet and Jean-Max Delva start the band again in a trio form, with their son Alexis Delva on guitar. They soon expand to a quartet inviting bassists Laurent Feix then Jimmy Chauteau (in 2015). In 2016, bassist Ludovic Métayer joins Anaïd as full member of the band, who records their new album "Libertad".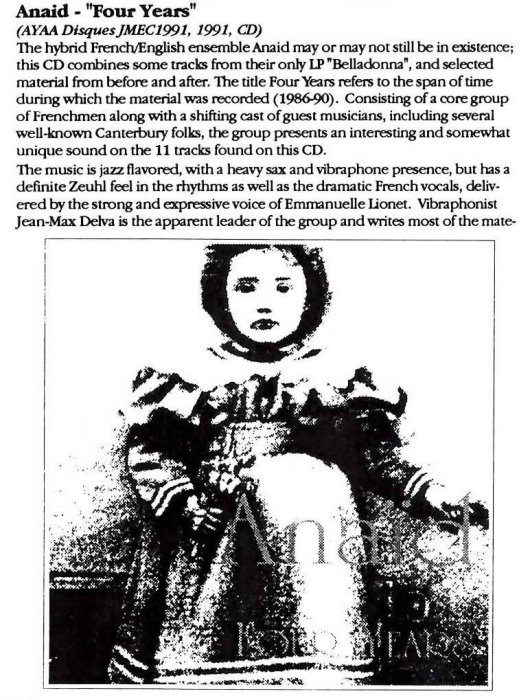 Songs / Tracks Listing
1. Azalia (4:45)
2. Belladonna (9:20)
3. Arabesque (5:40)
4. Vêtue De Noir (7:15)
5. Ikebana (4:40)
6. Heartbreak (4:20)
7. Spa (7:15)
8. Nord-Sud (4:40)
9. Clémentine (5:05)
10. Sea And Saw (5:20)
Line-up / Musicians
Jean-Max Delva / vibraphone, drums, percussion
Emmanuelle Lionet / vocals
Rick Biddulph / bass, guitar
Pierre-Marie Bonafos / saxophones [ alto, soprano & tenor]
Jean-Luc Ditsch / drums
Christian Hossaine / drums
Jean Marc Houssepian - acoustic bass
Hugh Hopper / bass
Patrice Meyer / electric guitar
Patrick Morgenthaler / keyboards
Sophia Domancich / piano
Anaid is composed of Emmanuelle Lionet (vocals), Jean-Max Delva (vibraphone), former Soft Machine member, (and Canterbury legend) Hugh Hopper (bass), Patrice Meyer (guitar), a keyboard player and a drummer. Their music has been compared to the first ZAO and to COS because of the powerful female vocalist, and sometimes to Gong (Expresso II period) because of the preponderance of vibraphone as well as the specific "tonal harmonies and melodies." They have also been linked to National Health regarding their thematic complexities, the swift and frequent breaks, and the often lush sonic atmosphere.
Anaid released two albums, Vêtue De Noir in 1986, and Belladonna in 1989. Both of these LPs were re-released on a CD compilation by the AYAA label France in 1991, entitled Four Years (Vêtue De Noir was included in part, and the complete Belladonna). Progarchive: